Hello everyone, sorry it's been over 2 weeks since I last posted on here, I've had blogger's block and have been busy at my internship. As we're in the final week of August (how fast has this year gone?), I thought I would share some things that I have been loving over the past month. As it's the 8th month, there are 8 favourites and this might become a regular feature on here so watch this space! Also guys, I have made a Facebook page for the blog so like the page to be notified every time there's a new post on here, here's the link:
https://www.facebook.com/mancuniansheep
1) Cucumber sandwiches- Sitting at the desk all day at work, I was worried about putting on lots of weight by being tempted by all the naughty treats that the Sainsburys and Morrisons near university have to offer every time I went in to buy lunch so, I've been making my own. Cucumber sandwiches are my absolute favourite and I think I might make my own lunch when I go back to university as a student if I'm not too busy that is!

2) Nectarines/ Peaches- As well as taking my own lunch to work, I've been taking fruit as a mid-morning snack and have been loving juicy nectarines/ peaches in August so much so that some days I've been having two! I think I'm going to bake something with peaches/nectarines if I can find a good recipe. For those of you who have wondered what the difference between peaches and nectarines actually is, check this out:
http://www.michiganpeach.org/facts/nectar.htm

3) Post- it notes - A firm favourite as any fellow stationery lover will know but these yellow rectangles have been lifesavers over the past few weeks. When you are organising a week of events for ~2000 people across 21 degree programmes, you need to remember a lot of things. I use Post-It notes for several daily to-do (and to email/to call) lists, making notes during briefings with my manager and of course, shopping lists! If you don't like having lots of bits of paper everywhere then I recommend the ColourNote app available here: (https://play.google.com/store/apps/details?id=com.socialnmobile.dictapps.notepad.color.note&hl=en_GB)

4) Lush Lip Service- With the recent change in weather and basically the end of British summer, my lips have gone incredibly dry and although I love Carmex as it works, I don't particularly enjoy the smell and taste so needed a new lip balm. I was in Lush buying gifts and spotted the lip products and ended up buying Lip Service as the very helpful assistant at the Market Street store recommended it. It is incredibly moisturising and leaves my lips so soft. It contains tangerine oil so smells like Terry's chocolate orange without being sickly sweet and sticky unlike some other lip products such as The Body Shop Born Lippy ones. I would however, change one thing about Lip Service- the packaging; I wish it was in a tube not a tin due to hygiene reasons.
5) The Curious Incident of the Dog in the Night-Time by Mark Haddon - I'm currently re-reading books that I've not read since secondary school because nostalgia, y'know. We studied it in Year 9 for English so I've not read it for ~6 years and I love it even more than I did the first time around. The book is narrated by Christopher, a teenager with Asperger's Syndrome who is out to find who murdered his neighbour's dog with a garden fork :( Along the way, Christopher tell us interesting facts as he wants to be an astronaut when he is older and is doing his Maths A-level a couple of years early. Whilst collecting evidence for his detective work by speaking to the neighbours, Christopher finds out something that will turn his life upside down (but in a good way). I won't ruin the book by telling you the big secret but I highly recommend this book as it really opens your eyes to how talented children with disorders on the autistic spectrum are. By the end of the book, you're left feeling like Christopher has been one of your closest friends for years. I feel that it explains what life with Asperger's is like much better than The Shock of the Fall does with schizophrenia.
6) Last week, the other intern who I share an office with was away for 3 consecutive days so I was all alone and decided to stick on BBC Radio 1 to keep me company. I've already done a song of the month post for August but can't help myself as there are so many great songs out at the moment so I've included a couple in my August favourites! The first song is Giant in my Heart by Kieza, I absolutely loved Hideaway and her unique voice is so refreshing. This song is really catchy and I love the wow doo doo doo bit in the bridge :P I do wish the video had more of her dancing because my word, the girl can move!
7) The other song is Tell Her by Rizzle Kicks. I saw Rizzle Kicks live in 2011 when they were supporting Professor Green. I love Tell Her as it is foot tappingly good and the video just makes me want to be a child again!
It's a 4 part series and the final episode is on this Friday at 8.30 pm. This quirky and cute couple show us how to make everything from a Walnut Whip to a Sherbet Lemon Dip (ooh that rhymes!).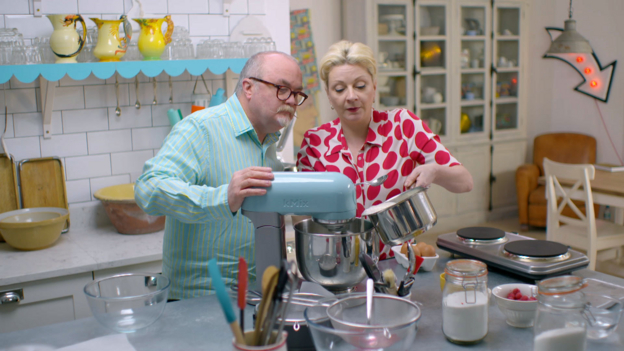 I hope you've enjoyed this post and let me know whether you would like me to do a favourites post every month! I can't believe it's almost September and I start my final official year in education in 3 weeks. For those of you going back to school/college/university, make the most of the last few days/weeks of your summer holidays. I'm going to be meeting up with my friends and baking, reading and watching films to my heart's content. I watched 3 Harry Potter Films over the weekend (Order of Phoenix, Goblet of Fire and Prisoner of Azkaban- yes, in reverse order :P). Speaking of going back to school, for those of you who received your A-level results and are off to university this September, I've made an advice video- enjoy!
Until next time, take care.