Hello everyone, as I am one to stick to my promises I am posting this week's update on a Sunday evening. The first half of this week was as fun and exciting as the previous fortnight of my summer holiday so far but life's a roller coaster as Ronan Keating once said (I've just realised there may be some of you who are so young reading this that won't know who he is, I now feel very old). For those of you who'd like to know, Ronan Keating used to be in an Irish boyband called Boyzone.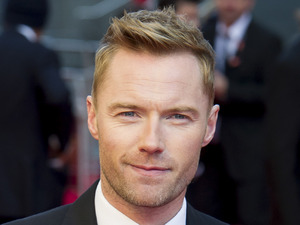 He doesn't look 37 at all!
Talking of Ronan Keating, I went to watch The Postman Pat Movie with my friend Sammia on Thursday and he was in it! I've been waiting for that film since 2012 which is when I initially heard about it but for some reason or another it was delayed. In all honesty, it didn't feel like a film because it was under 90 minutes long and felt more like a special edition of the show for Christmas or something. David Tennant, Jim Broadbent and Rupert Grint star in the film with Stephen Managan taking on the role of Pat. The movie did make us laugh which means it's doing something right if it's aimed at young children. Pat basically goes on a talent show a bit like Britain's Got Talent and the prize is a record contract, trip to Italy and a lifetime supply of Pot Noodles. He wants the trip to Italy to treat his wife, Sarah, to a proper honeymoon. Postman Pat (feels odd calling him just Pat) auditions with a rendition of his wedding song and wins over the very aptly named harsh judge, Simon Cowbell. Unfortunately, all is not well as a new boss at the Special Delivery Service wants to replace Pat and Jess with evil robots to increase efficiency. David Tennant who plays Wilf is out to get Pat too because he is an agent for Josh (Rupert Grint) who is Pat's main rival in the talent show but Josh isn't evil like Wilf (I mean can you ever imagine Ron Weasley playing an evil character?). Personally, I'd give the film 3/5 stars because although it was quite funny, I don't think younger children would have understood some of the jokes and it would have been nicer to see some of the regular characters like Mrs Goggins more. Also, there were some discrepancies like Julian's Irish accent and how none of the characters distinguished Pat from the robots for ages. I must say I appreciated the sheep, especially the one that kept climbing the tree. I'll do the not so good part of this week now so we can finish the post on a high. Mum's been taken to hospital but hopefully she'll be home soon. She was very dehydrated and has an infection. Infections are very common in Parkinson's patients particularly in hot weather like we're currently experiencing. Some of the symptoms to look out for are high temperature and/or excessive sweating, falls, incontinence, loss of appetite, lack of sleep and pain.
Aside from visiting Mum, watching a film which I am at least 15 years too old for and eating lots of Fab ice lollies, I have been watching Peep Show this week. I'm currently on series 3 and already the similarities between myself and Mark's thought processes worry me. I've also been reading The Shock of the Fall by Nathan Filer who is a registered mental health nurse and this is his first book. The Shock of the Fall follows the story of Matt who had a brother called Simon who suffered from Down's Syndrome and died young when Matt was a child. I am currently two thirds of the way through the book and will review it properly in my next post. Sorry this post wasn't very exciting or long but hey ho, Wimbledon starts tomorrow, woo!

Until next time, take care.
Love,
Mancunian Sheep x