Hello all. I shall warn you now that this will be a beastly post. I'm making up for the fact that I haven't posted for almost 4 months. I hope you've all been well and for those of you who had GCSEs, A-levels or university exams- best of luck for the results. I had 5 exams during the recent exam period in biochemistry, cell biology, labs, microbiology and pharmacology. I received my results last Friday and I'm pleased to let you know that I passed my first year of uni. Woo! :D That leaves 2, perhaps 3 more years for me in education. As my Aunt was saying when she came over recently, it's been a long academic journey but it has been worth it. We've already chosen our modules for second year and I'm really looking forward to them, particularly Organismal Genetics (can't beat a bit of Mendelian Genetics) and Animal Physiology. Having said that, I'm looking forward to all of my second year modules. We were given a lot more choice as we could select 7/8 of the second year modules compared to 4/9 first year optional modules. My other second year modules are Virology, Evolution, Plants for the Future, Immunology, Endocrinology and Histology. University finished in early June until September and truth be told, I miss it. I've been up to a fair bit but I miss having something productive to do.
Now I've updated you all on what's going on with my university life, time to tell you all what I've been doing for the past month with a lot of pictures, as usual.

1) Baking!
I'll admit I haven't been doing a lot because it's been quite hot and also because my Mum and I are both watching our weight at the moment so are on a bit of a health kick. Just realised that since my last post on here was in March, none of you (unless you follow me on Twitter; shameless plug or know me in real life) will know that my friend and I went to John Whaite's book signing! :D He is so nice! I've baked a couple of things from his recipe book so far. If you would like to purchase it, here's the link:
http://www.amazon.co.uk/John-Whaite-Bakes-Recipes-Every/dp/0755365097/ref=sr_1_1?ie=UTF8&qid=1373388062&sr=8-1&keywords=john+whaite+bakes
I'm intending to bake a couple of his cakes during/after Ramadan depending on the weather so hopefully I'll include them in my next post! I also made some Bakewell muffins but for some reason, Blogger won't let me upload the photo, probably doesn't like cherries and/or almonds.
John and I at his Trafford Centre book signing in April.
"Tropical fruit pavlova" from John's book. It should have
mango and passionfruit on it too but they didn't ripen in time.
2) Cinema!
I'm not a massive cinemagoer, as an only child I never really had anybody to watch many films with growing up. When friends ask me if I've watched a certain film and I 9 times out of 10 reply "No", their jaw usually drops. Feel free to leave a comment below asking me if I've watched a certain film (not any mentioned on the blog) and if I have, the person who asked will get a special shoutout in my next post ;) Anyway, to break a habit of many years, during the past couple of years, I've really tried to make more of an effort to go to the cinema. A few weeks ago, I went to watch The Great Gatsby and it was superb.The style and acting was great but for me, the modern music ruined it. Jay-Z is about as far away from the 1920s as you can possibly get. Lana Del Rey was slightly more suitable but the film could have done without such drivel. I love Leonardo DiCaprio (I mean who doesn't?!) and when Gatsby was shot, I almost dropped the popcorn! My favourite character aside from Gatsby was Jordan because she was her own person and not two faced -_- I've not actually read the book but it is next on my summer reading list. Last Friday, I went to watch The Bling Ring with another one of my lovely friends and it was brilliant obviously because Emma Watson was in it ;) I will definitely be purchasing both on DVD.
A still from my favourite scene, I loved how nervous Gatsby was and how he
kept storming in and out of Nick's house when Daisy arrived for afternoon tea.
I love how Nicki is a million miles away from Hermione.
Shows what a flexible actress Emma is.

3) Being a Student Ambassador
I wouldn't even call this work because I have great fun and meet the most amazing people! Recently I've worked at the university open days, a guest lecture for alumni, with year 6 pupils at a local primary school and year 9 students who visited the university. It's been a lot of fun and I've really felt at ease working with young people and their parents so I'm almost certain that I want to do a PGCE. However, I do have a dilemma as I'm not sure which age group to work with- primary, secondary or post 16? As you know, this year I've had a lot of experience with secondary school pupils due to mentoring so hopefully during second year, I can get some more experience in a primary and secondary school setting to help me decide before I apply for a PGCE in third year. I want to have a career which involves sharing scientific knowledge with others either by teaching or science communication but I feel that teaching is more suitable for me because I've always liked helping others. Talking of science communication, I am in the process of writing an article on the Wood Pigeon, once it goes online, I will share the link on here.
4) Being a fruit addict
Let me explain. During revision, I had a terrible craving for...
PINK LADY APPLES! :O
I recently bought a new perfume- Be Delicious by DKNY and the bottle looks like a pink lady apple so I'm almost certain that my craving had something to do with that. Anyway, none of my local shops had pink lady apples which is plain stupid so after my pharmacology exam, I went to a Tesco near uni with a friend who also loves fruit to satisfy my craving. Unfortunately, that was not the end of my first world problems. Since finishing uni, I've now moved onto Braeburn, sorry Pink Lady. Watch this space for my next apple craving. My fruit addiction doesn't end there, last weekend and this weekend, I got through TWO PUNNETS OF STRAWBERRIES IN ONE DAY. I can't even use "being at Wimbledon" as an excuse. By the way, I have no idea why I am sharing my fruit addiction with you, just thought you'd all like to know. Feel free to leave a comment below sharing what your favourite fruit is and your strangest craving. Maybe we could set up Fruitaholics Anonymous? :P

5) Last but certainly not least, WATCHING WIMBLEDON!
I honestly could not contain my excitement whilst writing the rest of the post. Bet you all thought I wasn't going to mention Wimbledon- Bazinga! I apologise for the capital letters but it has only been a mere 48 hours since: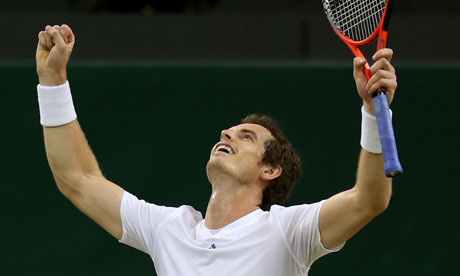 The moment Andy won and Wimbledon became Wimbledone.
ANDREW BARRON MURRAY BECAME THE FIRST BRITISH MAN TO WIN WIMBLEDON IN 77 YEARS ON 7/7/2013 AT 5.24PM AFTER BEATING THE WORLD'S NUMBER 1 IN STRAIGHT SETS. When Djokovic netted the last shot of the final, I screamed the house down, started crying instantaneously and hugged my Mum. I had the same reaction when Andy beat Verdasco in the quarter final after being 2 sets down. There could not have been a more worthy winner. Andy is such a fantastic role model, after everything he has been through, he has never given up and it has paid off because in the last 12 months, he has won Olympic Gold and 2 Grand Slams. He is a hero. Wimbledon 2013 was a tournament full of surprises with many of the top seeds going out in the first week including Azarenka, Sharapova, Williams, Nadal, Federer and Tsonga. I was so gutted about Tsonga Bear and wish him a speedy recovery on that knee injury. Due to all of the early exits, I was on edge more than ever about Andy but he showed us all that he wouldn't be another casualty. Talking of Serena, Lisicki the German sweetheart of SW19 defeated her so naturally, I was in tears during Saturday's women's final when she lost to Bartoli but I'm sure we will see plenty more of our very own Laura Robson and Smiley Sabine for many years to come as well as our Andy :D
Oh Judy! As Chris Simpsons Artist put it "We are all Andy's Mum"
because we all felt just as proud as we would if he was our own son.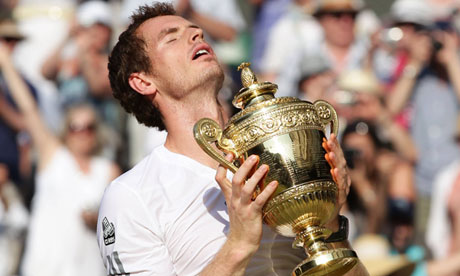 A national sigh of relief.
I don't think you realise quite how happy I am for him.
Look how beautiful they are! Kim has been a rock for Andy, such a lovely, talented young lady.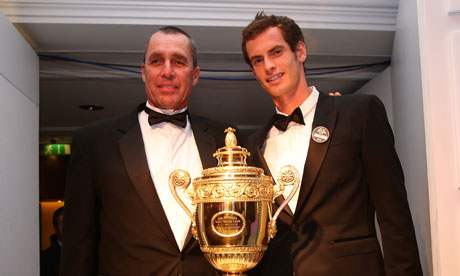 How very dapper?! It was so sweet when Andy dedicated his win to the legendary Ivan Lendl.
In other news, I have bought tickets to see both Jack Whitehall and Miranda who are my favourite comedians at the MEN arena in Spring 2014. I cannot wait! :D
I did promise this would be a long post to make up for my 4 month absence. As ever, feel free to comment below on how you celebrated/are celebrating Andy's win (to celebrate I had a punnet of strawberries and some delicious birthday cake which my lovely friend baked for me himself), your fruit addictions, movies or anything else that takes your fancy . Until next time (which will hopefully be a lot sooner than November), take care everyone!