Hello everyone, I did a post in summer about some of my favourite fashion finds and have decided to do a similar one for winter too. I love winter because it's nice to wrap up warm in lots of layers of clothing but I hate how my hands and feet are always cold no matter what I do. I went to see my GP about this earlier in the year and after several blood tests, they found nothing (surprise surprise) and they just recommended exercise. I am such a hypochondriac I know! I thought I would share my purchases with you because they are rather lovely and I've attempted to limit the damage to my bank balance :P
Last week, my Mum sent me out with THE most random shopping list ever so after doing some Prokaryotic Microbiology revision I decided to pop to our local Asda. She wanted fairy cakes, latex gloves, Lockets (cough sweets), tomatoes, chillies, Ribena and a melon! Whilst I was there, I remembered that I needed some slippers because I didn't have any and wearing bed socks gives me the most terrible foot cramps. These caught my eye as the red and white love hearts remind me of the heart shaped Haribo sweets. They're only £5 so you can't go wrong really! They are really cosy and appear to be good quality compared to some of the more expensive slippers I've seen on the high street. I like the fact that they're navy all over so won't get stained easily. The sole also has good grip.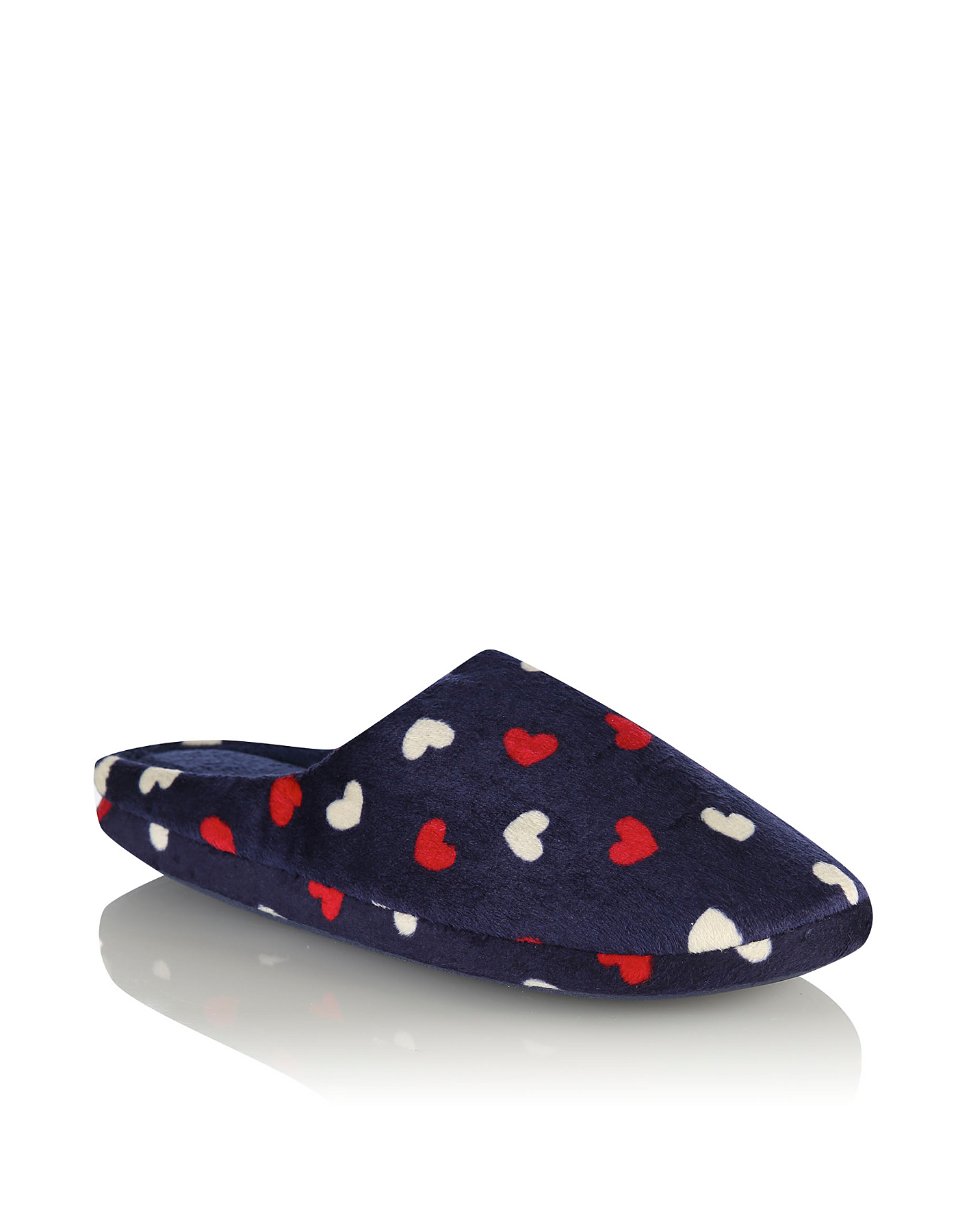 I spotted this next item in one of Zoella's videos when she went on a trip to Topshop with Tanya Burr. I love watching their videos so much! My big winter coat this year is a duck egg blue duffle coat but I was looking for a jacket but I didn't know what type of jacket to get but when I saw it, I knew it had to be this.The lovely Zoella's jacket is in the lighter wash but as my duffle coat is already a pale blue, I thought I would purchase the darker wash. I've had an absolute nightmare trying to find a nice scarf to go with my coat so I'm really grateful for this borg lined collar. Also, I love the fact it has 4 pockets and the bottom ones easily fit in my gloves and phone. As always with Topshop, the finishing is of a high standard so I can see this jacket lasting a long time and becoming a staple wardrobe piece making it worth the £58 (£52.50 with the student discount). I bought it in a petite size 12 and I'm 5ft 4.5 (yes the half an inch is important) and I'm a size 10-12 and it is a perfect fit and I've worn it almost every day this week.
Another Topshop purchase now- an Oh My Love oversized cardigan in wine. I absolutely adore this! It is a great alternative to a Christmas jumper because of the lovely colour and golden buttons which remind me of baubles. It can be dressed down with some Chelsea boots, a t-shirt and skinny jeans. It can also be worn on top of a pinafore dress with a shirt for a really cute look with some knitted tights and brogues or Chelsea boots. The cardigan was £35 but I just had a look on the Oh My Love website and it is now £15 and available in wine, cream and grey. I'm tempted to buy the other 2 colours now!
The next item is my Christmas dress! It is the textured knit dress from Next in the camel colour, also available in green and black too. This dress is really simple and versatile because you can accessorise it in different ways for different purposes. I wore it with tights, my denim jacket and green monk shoes for a casual look but for work or a formal occasion, you could wear it with heels, a belt and a nice statement necklace. It is a real staple piece and the colour just goes with everything. My only criticism of this dress which may be an advantage to others is that it is quite long. As you can see, it goes way past my knees but I'd say if you were about 5'6 or 5'7 upwards then it's totally fine. The dress was £28.
The final winter warmer I'm going to share with you is my favourite pair of boots this winter. They are the Red or Dead Summum boots in tan. I have worn them most days since I bought them back In October-ish and they are brilliant. The faux shearling lining keeps my feet toasty and as they are leather boots, my feet won't get wet in the Manchester rain either. You honestly can't lose with these boots and I would recommend them to anyone! Also, the sole has excellent grip so snow, come at me bro! I bought mine from Schuh and they are priced at £115 but again, if you are entitled to a student discount, they come in at £103.50. If you're going to buy a pair of boots this winter then it make it this one, I can't fault them.They will also go really well with the jacket and the dress above!
I hope this post has been of use to you and as ever, feel free to comment below and also share this post. Any knitted scarf suggestions will be more than welcome! Take care.