Hi everyone! I hope you've all had a good week, my first week of the summer holidays has been rather productive. As well as being a total couch potato and watching non-stop tennis, I've been busy painting the kitchen ceiling, baking (this week I made some meringues and rice pudding) and gardening. With the odd weather that we've had this year, there was a lot of grass in the front garden most of which I've managed to remove. Now all that is left is to prepare the soil to plant some petunias and herbs. I've had green fingers from a young age and gardening is also a great workout. My legs were aching after two days of gardening! As well as being a domestic goddess, I have attended two brilliant events in my first education free week, they are my lovely friend Lauren's 18th birthday party (regular readers will know more about Lauren) and I also watched the Olympic torch being carried through my local community. Here are some photos of both events:


The 2 gorgeous Laurens and I <3

The Olympic Torchbearer and a local resident
Also this week, I had my hair cut, yes the full fringe has returned, woop woop! Following the advice of my hairdresser, I've decided to grow my layers out because I fancied a change after 3 years of having layered hair. I went back to my sixth form on Friday for community day which was great! I participated in Zumba with my friend like last year and got incredibly overexcited when "Call My Name" and "Single Ladies" by Cheryl Cole and Beyonce respectively came on. As well as Zumba, my friends and I watched the college talent show aptly named "Xavs Got Talent", some of the acts which personally stood out for me were a boy who covered "Candy" by Paolo Nutini, a girl who sang "Kids" by MGMT and a boy who beatboxed for about 10 minutes without his lungs collapsing amazingly. Unfortunately, I haven't recharged my digital camera since but I will post some photos and videos on the next post.
Now as the title of this post mentions Wimbledon, I of couse have to mention how much of an Andy Murray fan I am! If any of you are tennis fans, I would love to hear from you so feel free to comment below! Murray has been on top form during the tournament so far and especially last night (during his third round match) when he and Baghdatis were pretty much neck and neck statistics wise for the first 3 sets. It was dreadful to watch Murray fall several times because he looked to be in a huge amount of pain however he really amazed anyone who has previously doubted his ability in the 4th set. Although closing the roof made conditions more difficult to play in, the 36 minute break proved valuable for Murray and the final 2 games of the match he won in approximately 5 minutes. Enough about Murray, Rosol shocked the world when he beat Nadal but Wimbledon wouldn't be Wimbledon without its twists and turns. Even Federer looked to be in trouble but he came back from 2 sets down against Benneteau to win in style. Another thing which I love about the majority of tennis players is how classy they are, despite losing or being exhuasted after playing for 2-4 hours they still stick around to sign autographs. You may think I'm easily impressed but this restores my faith in human nature. Not forgetting the women's tennis, I discovered an incredibly talented young lady called Laura Robson during the first Wimbledon match I watched this week but unfortunately she was knocked out in the first round. However despite being only 18, she was playing very well. No doubt she will return to Wimbledon next year stronger and better. I tried to watch a bit of Maria Sharapova's match however she makes too many weird noises and it's really off putting -_-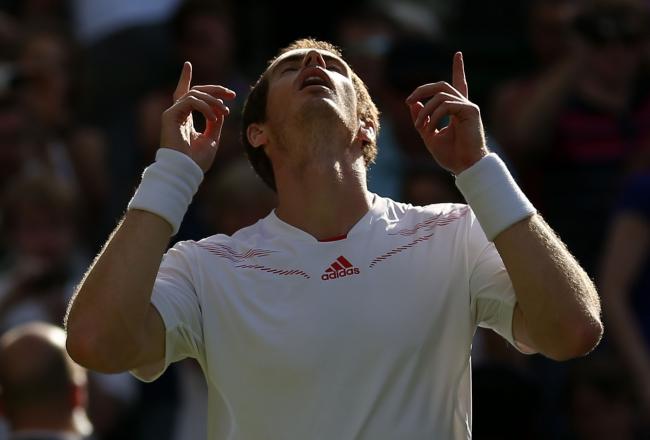 I couldn't help myself, ;) oh Murray, we love you, we do!
In other news, I booked my practical driving test but I'm not telling anyone when it is except my lovely instructor that is, I haven't even told my Mum because I don't want anyone to know if I fail and everyone's expectations will put a lot of pressure on me. Anyway, I have shared my first week of the holidays with you all and I hope you've enjoyed reading. I myself am going to spend the rest of this evening reading Frankie and Stankie. I'm only on the first chapter so I will tell you more about it next week and let you know whether it's a recommended read. Take care and have a great week!